13.Mar 2019
AISYS GLOBAL, QTS FOREIGN EXCHANGE TRADING YIELD FOR 3 YEARS AND 6 MONTHS IS 74.06%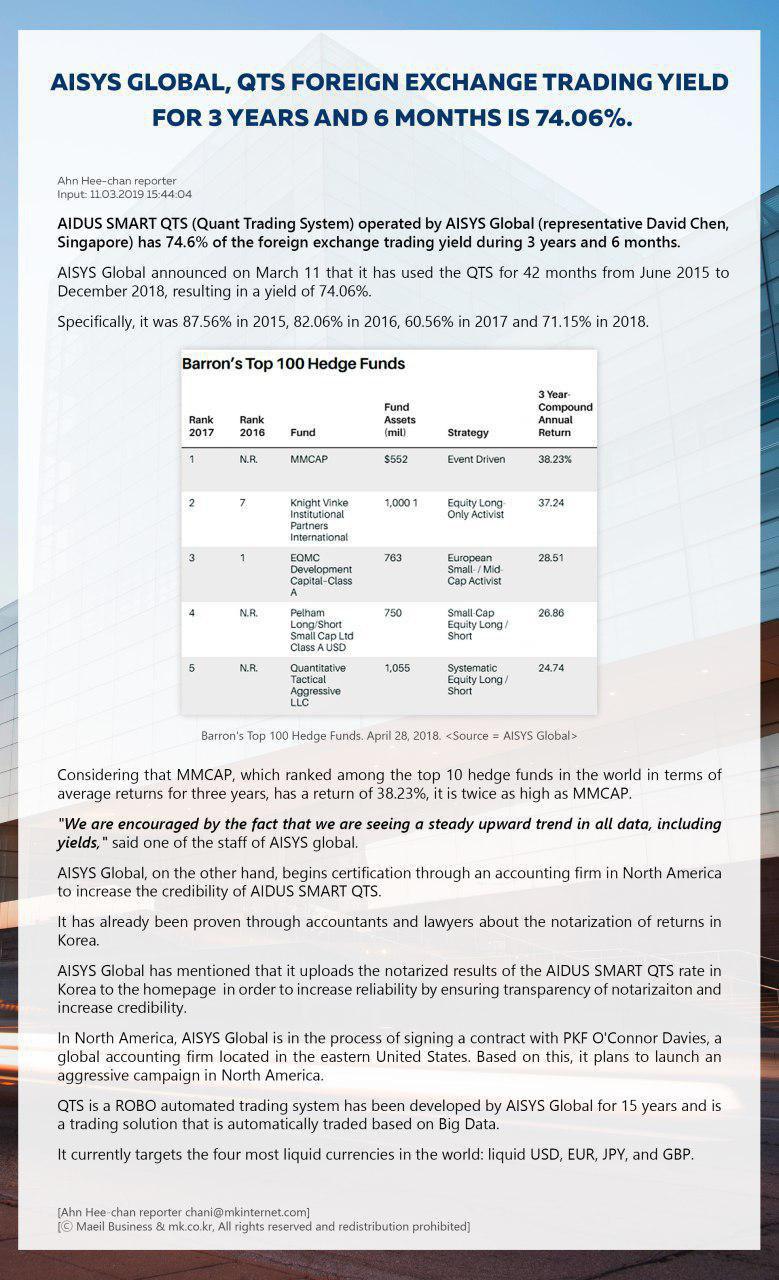 original article link : http://game.mk.co.kr/view.php?year=2019&no=145654
11.Mar 2019
AIDUS QTS Revenue Report Certification Authority Change Notice.



AIDUS QTS Revenue Report Certification Authority Change Notice.


Hello, we're announcing the change to the AIDS QTS rate certificate authority.


1. Existing: Law office Jimyung and global Gongjung accounting corporation.

2. After Change: USA PKF O'Connor Davies, LLP

Website : https://www.pkfod.com/

3. Application Schedule: The report will be applied starting from March 8, 2019.


4. USA PKF O'Connor Davies, LLP Brief Introduction


Headquarters: Harrison, NY

Year of establishment: 1891

Scale: 501~1000 people.

Specialty: :

Audit, Compliance, Financial reporting, Internal control reviews, Information technology systems, Consulting,
Personal and estate planning, Tax,Exempt organization tax, Wealth Services, Accounting, Business advisory, Family office




Introduction


PKF O'Connor Davies, LLP is a full-service certified public accounting and advisory firm with a long history of serving clients both domestically and internationally.

With roots tracing to 1891, nine offices in New York, New Jersey, Connecticut and Maryland, and more than 700 professionals, the Firm provides a complete range of accounting, auditing, tax and management advisory services.

PKF O'Connor Davies is ranked 28th in Accounting Today's 2017 "Top 100 Firms" list and is recognized as one of the "Top 10 Fastest-Growing Firms."​

PKF O'Connor Davies is also recognized as a "Leader in Audit and Accounting" and is ranked among the "Top Firms in the Mid-Atlantic," by Accounting Today.

In 2017, PKF O'Connor Davies was named one of Vault's Accounting 50, a ranking of the 50 best accounting employers to work for in North America,

and ranked among the top 50 most prestigious accounting firms in America in a complementary Vault survey. The Firm is the 11th largest accounting firm

in the New York Metropolitan area, according to Crain's New York Business, and was named the 10th top accounting firm in New Jersey by NJBiz.


By consistently delivering proactive, thorough and efficient service, PKF O'Connor Davies has built long-lasting, valuable relationships with its clients.

Partners are intimately involved in the day-to-day management of engagements, ensuring a high degree of client service and cost effectiveness.

The Firm's professionals employ a team approach providing clients with high quality and timely services aimed at helping them succeed.

Continuity of staffing and attention to detail in all client engagements make the Firm stand out among its competitors.

PKF O'Connor Davies is the lead North American representative in PKF International,

a global network of legally independent accounting and advisory firms located in 440 locations, in 150 countries around the world.
08.Mar 2019
AIDUS TOKEN is Listed on Coinmarketcap.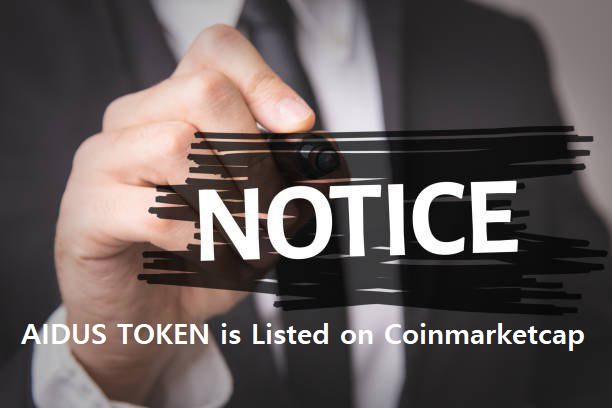 08.Mar 2019
AID is listed on the USDT market of CoinBene!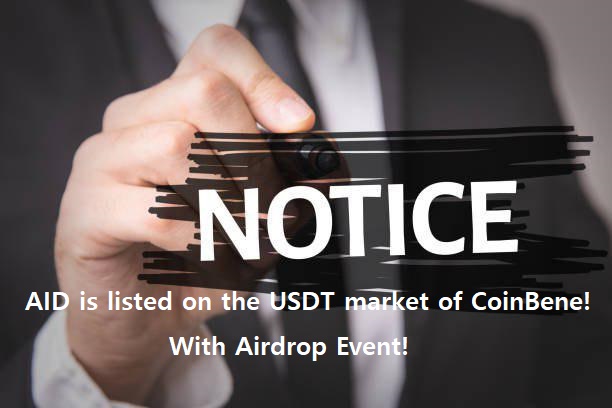 AID Coinbene in USDT Market, 7th. Mar. 2019. 13:00 (GMT + 9: 00) has been listed.

The AID Airdrop Event is also scheduled for 7th. Mar. It is scheduled to start at 2019. 16:00 (GMT + 9: 00).
06.Mar 2019
US Investors focus on the AIDUS Project. New York investment brefing, Feb. 5th. 2019
ARTICLE LINK : http://news.mk.co.kr/newsRead.php?no=132542&year=2019 (Korean Version)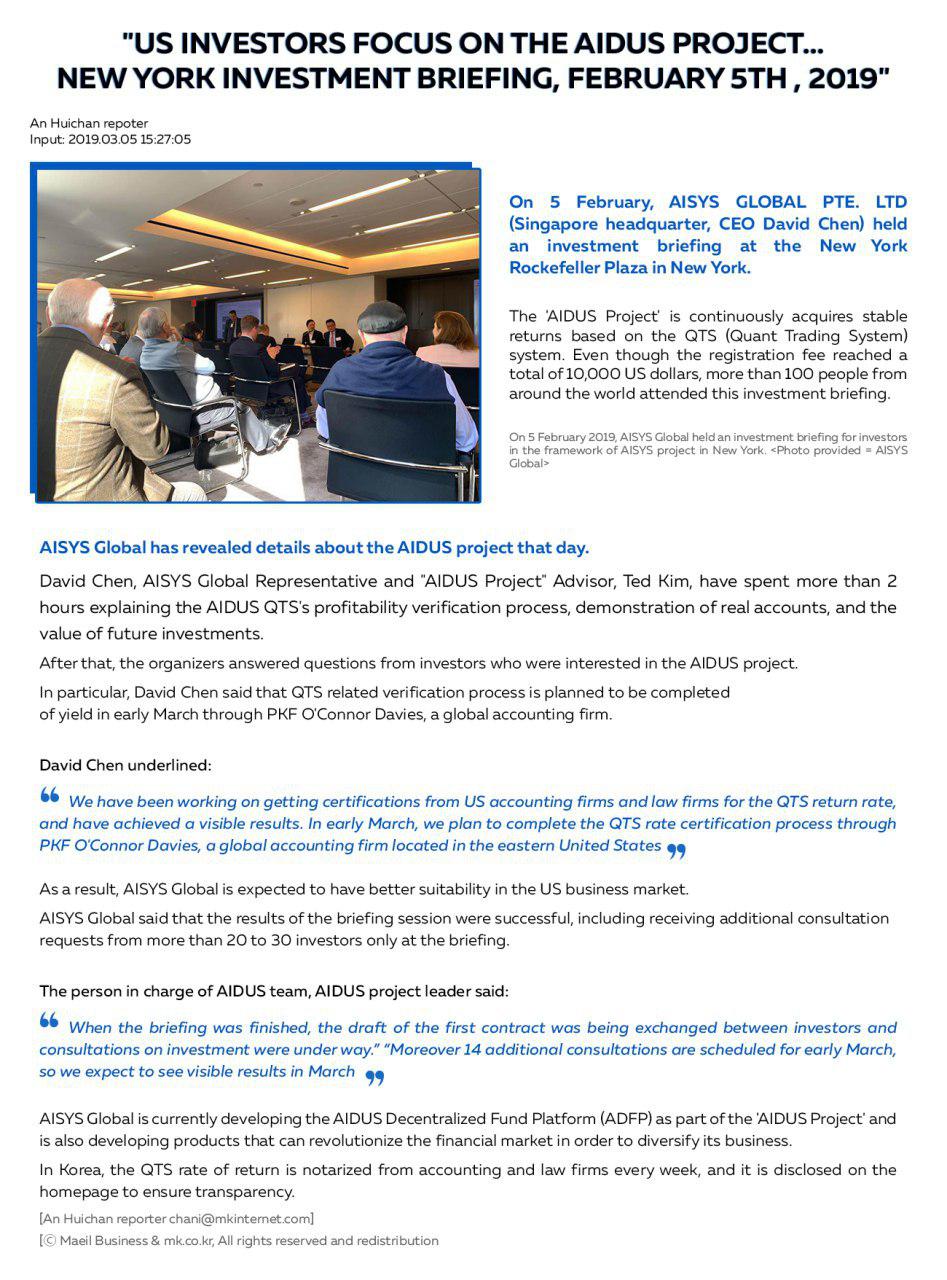 01.Mar 2019
AIDUS IS LISTED ON LATOKEN NOW!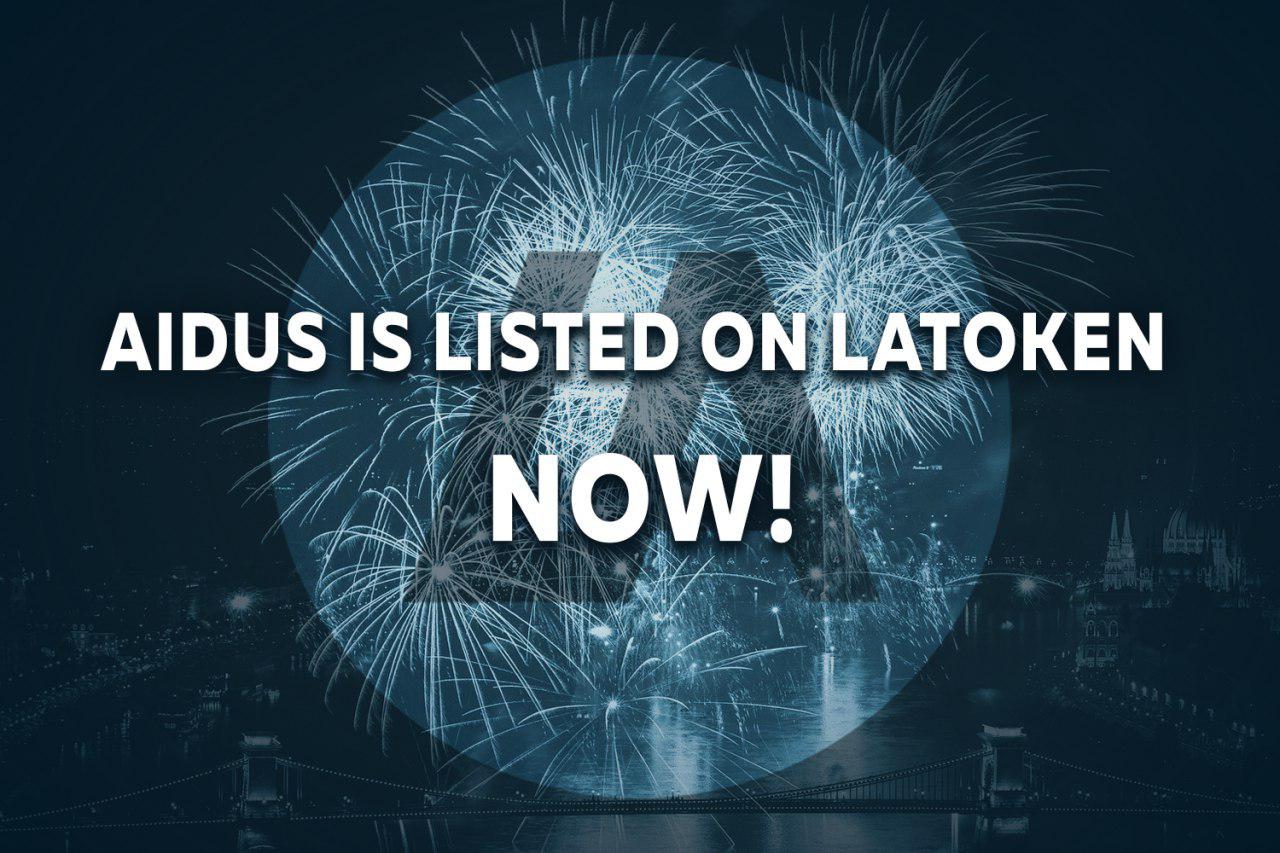 AIDUC COIN is listed on BTC,ETH,USDT Market.
Please watch the development of AIDUS.
Thank you.
LATOKEN :https://latoken.com
26.Feb 2019
22.Feb 2019 Earning Rate QTS VS Top100 Hedge Funds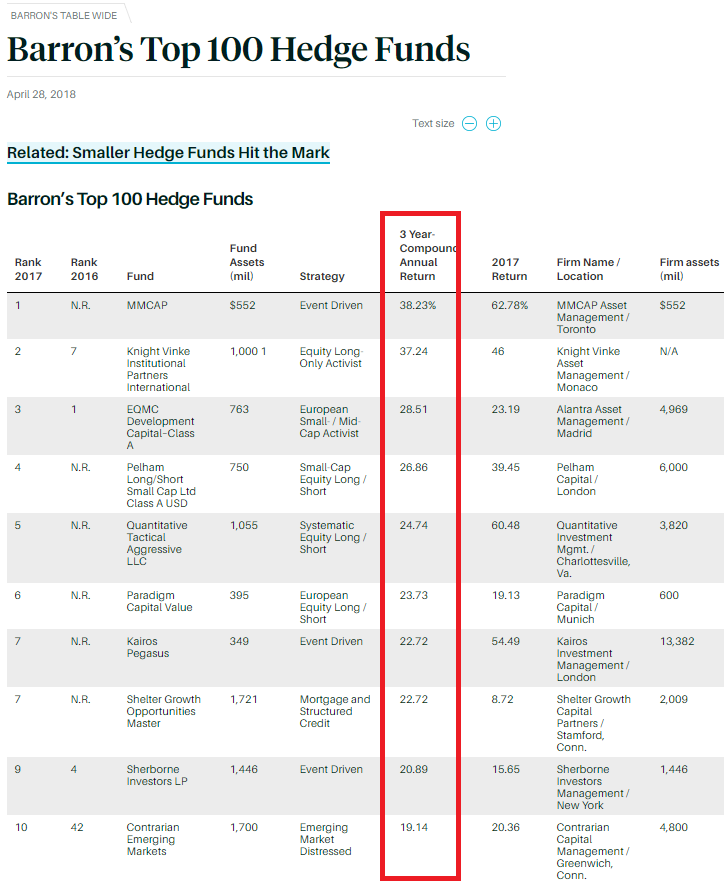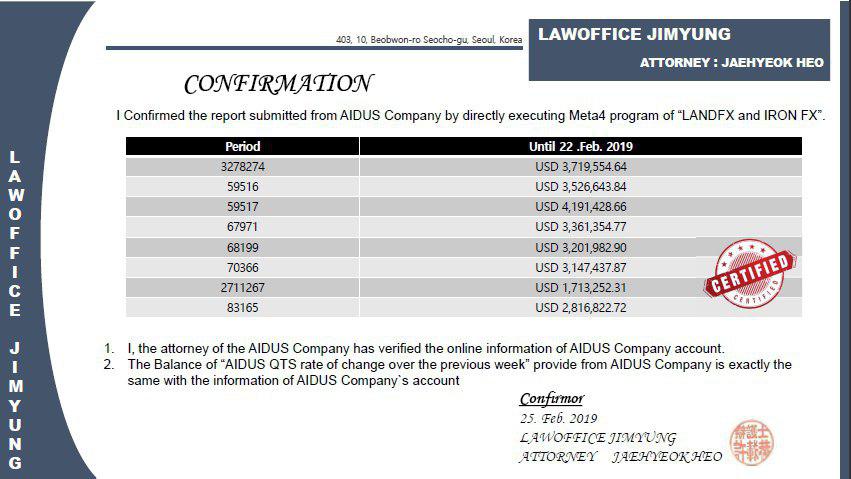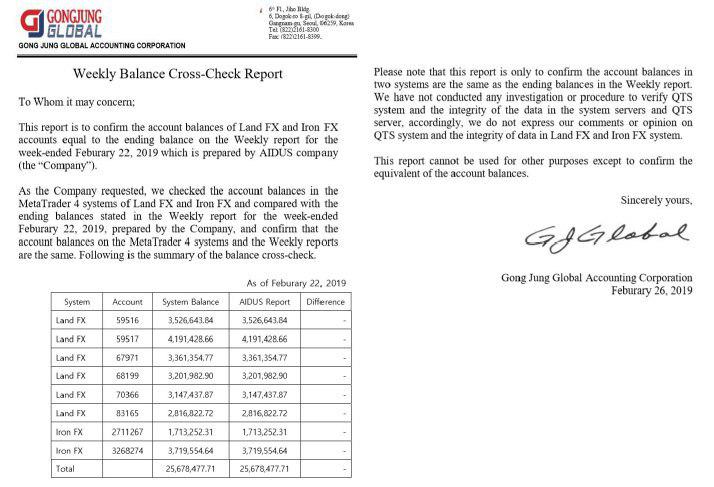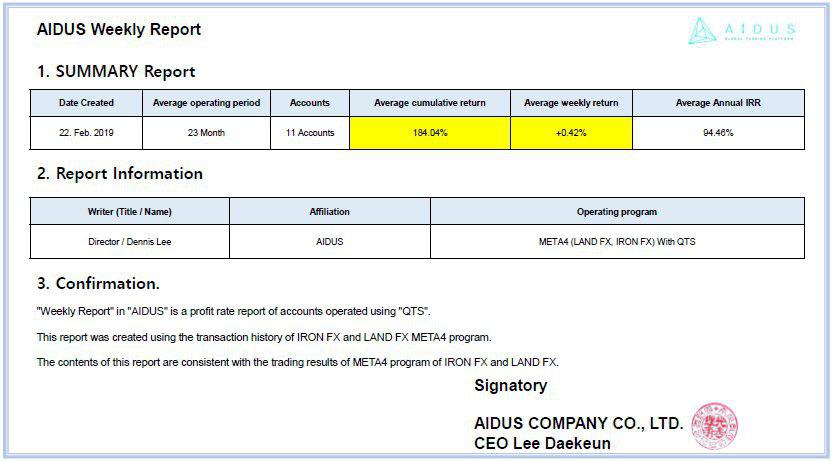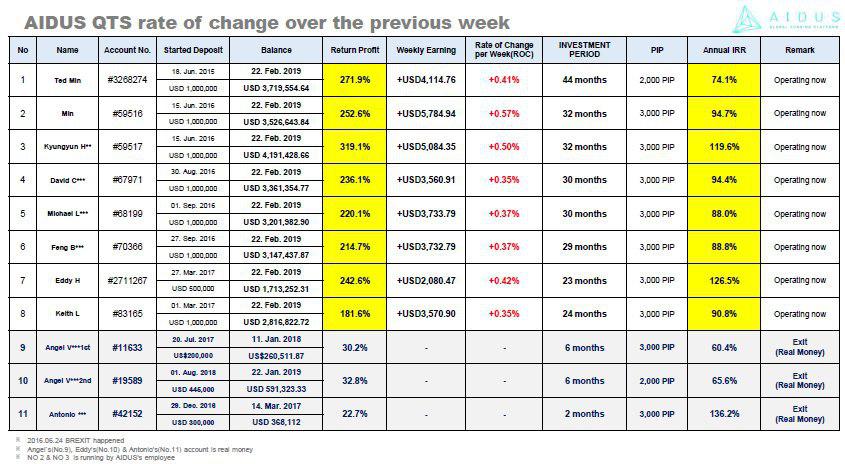 [Comparison of Profitability of AIDUS SMART QTS and World TOP100 Hedge Fund based on Barron's statistics]
TOP100 Hedge Fund (1 to 10th) Average Return Rate for 3 Years -

26.47%



In comparison, the annual yield average return of AIDUS QTS -

94.46%.
[The Change of AIDUS QTS Return Ratio until 22.02]
This document was notarized by law firm and accounting firm.
It shows the AIDUS QTS rate of change over the week. The highest ROC is +0.57%. Therefore, estimated total per year would be 119.6%.
Summarising all the 11 accounts we have the following results:
Average Cumulative returs is 184.04% and Average Annual IRR would be 94.46%.
26.Feb 2019
AIDUS Coin is registrated on Coingecko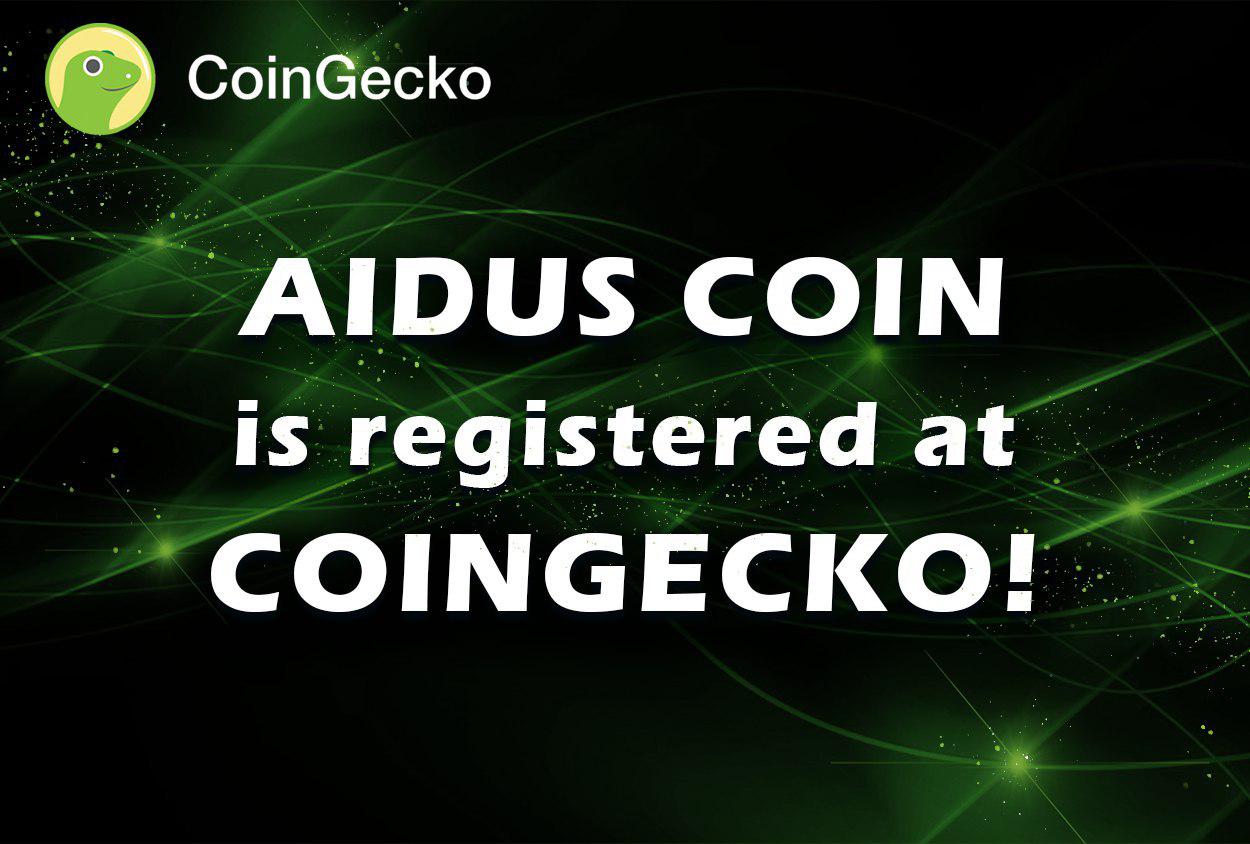 [ AIDUS Coin is registrated on Coingecko ]
CoinGecko provides a fundamental analysis of the crypto market. In addition to tracking price, volume and market capitalization, CoinGecko tracks community growth, open-source code development, major events and on-chain metrics.
Keep following AID Coin growth with Coingecko
22.Feb 2019
SOON! AIDUS + LATOKEN. Stay Tuned!!!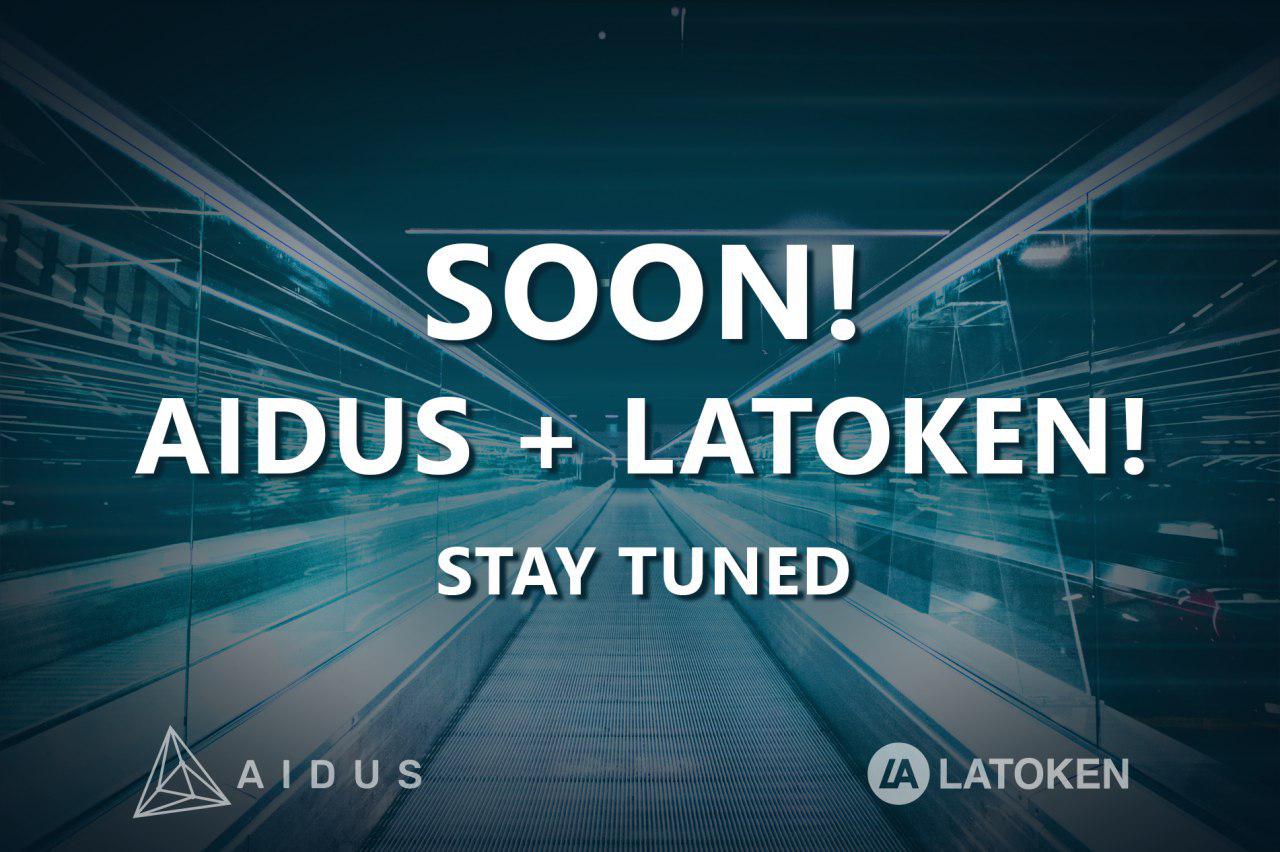 21.Feb 2019
[Notice] AIDUS WEBSITE Modification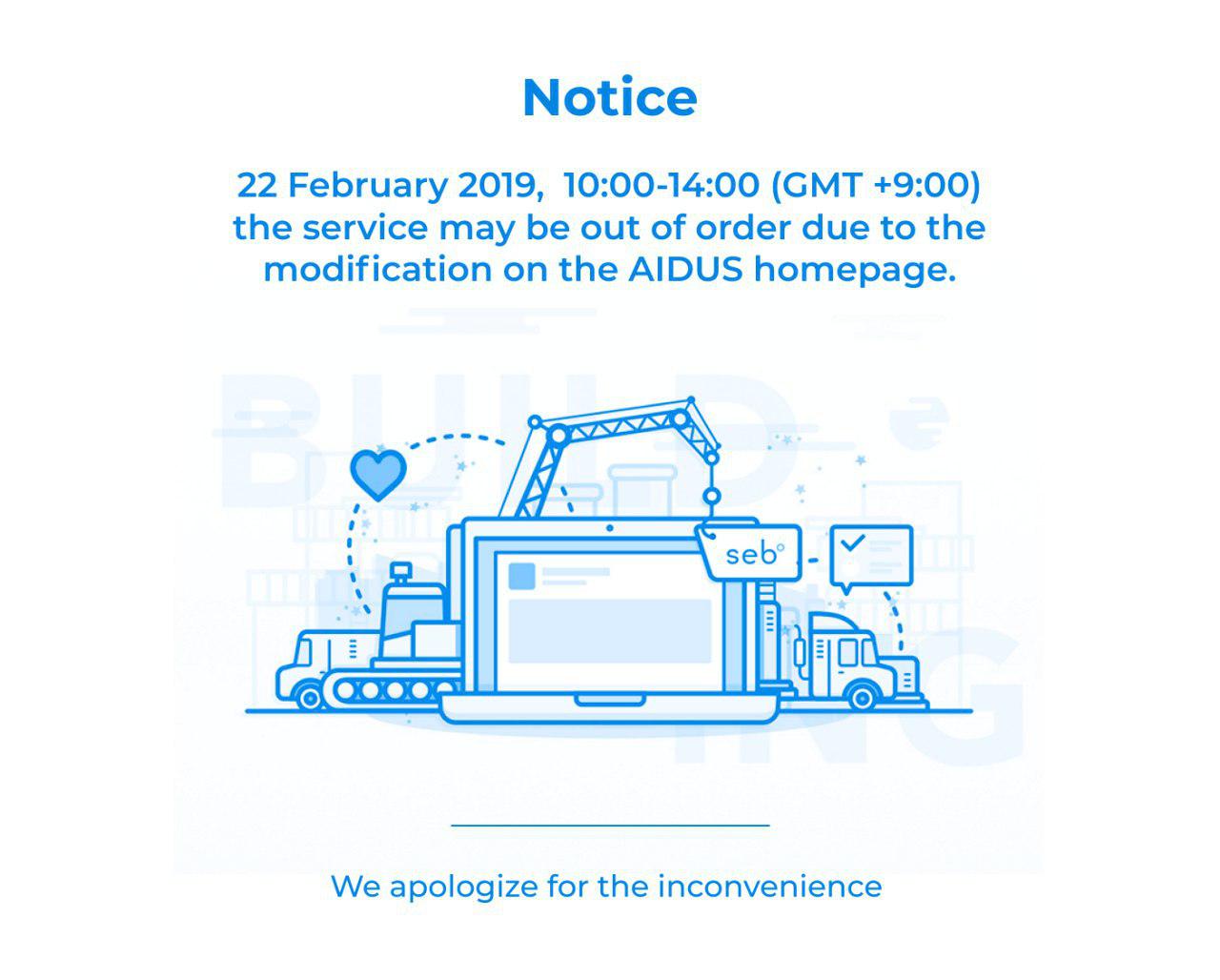 15.Feb 2019
​​​​​​​AIDUS AIRDROP has been completed.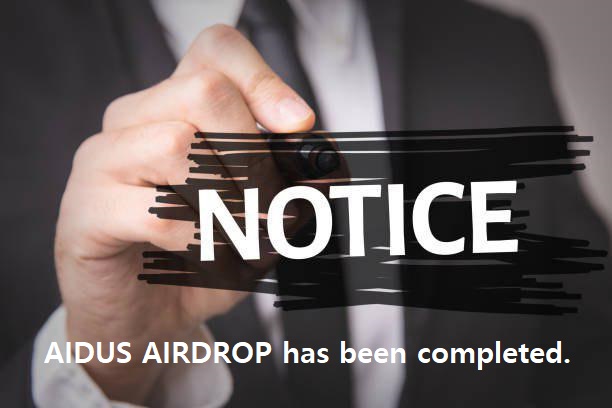 AIDUS AIRDROP has been completed.
On February 15, 2019, we conducted an AIDSUS AIRDROP for those who were interested in AIDUS PROJECT and worked with us.
This AIRDROP applies to all participants in such events as Bounty and Meetup.
* For those who provided AIDUS with an ERC20-based wallet address.
Thank you.
31.Jan 2019
AIDUS TOKEN AIR DROP Schedule(15. Feb.2019).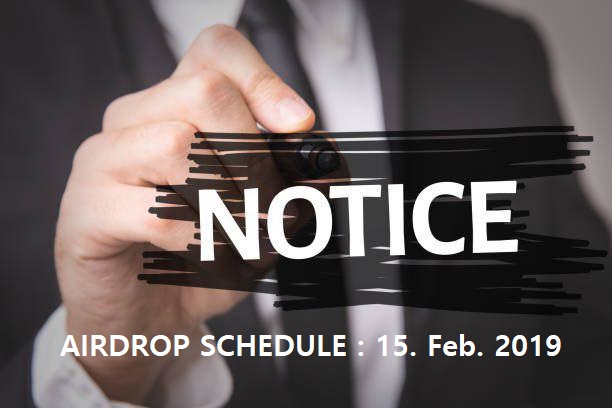 According to AIDUS TOKEN's payment policy, AIDUS TOKEN will be distributed to all those who are going to be paid by February 15, 2019.
Payment method: Payment will be made through the wallet address that you submitted.
In case of any changes, we will notify you on AIDUS WEBSITE (https://aidus.io).
We sincerely appreciate your support to AIDUS PROJECT.
31.Jan 2019
Notice of airdrop schedule.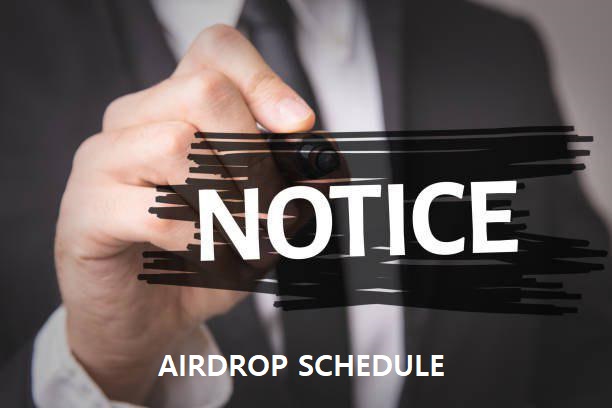 Please wait for a moment if you plan to receive your AIDUS Coin through Airdrop, according to AIDUS policy.
Currently, we are adjusting the schedule related to airdrop along with the reorganization of the homepage and will proceed soon.
We will notify you of the detailed schedule at AIDUS Website(https://aidus.io) in the future.
Thank you very much for your interest in the AIDUS Project.
Best Regards
AIDUS SUPPORT TEAM
31.Jan 2019
Achieve a 63% annual IRR on AIDUS QTS.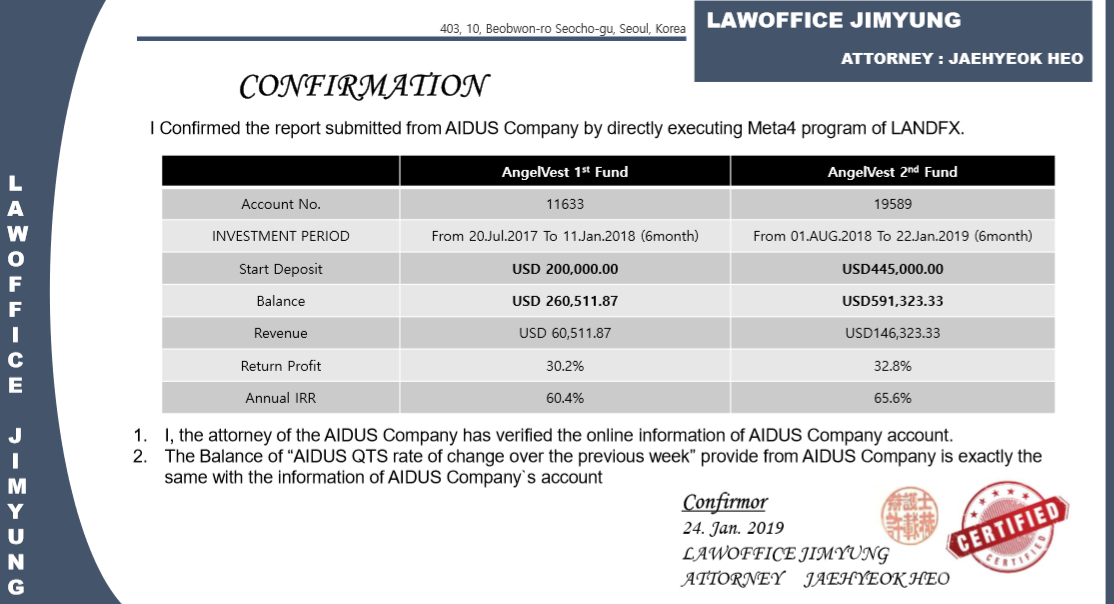 Investor: ANGELVEST
1st : US$200,000
Period : 20. JUL. 2017 ~ 11. JAN. 2018 (6 Months)
Balance : US$260,511.87
Eraning Rate : 30.2%
Annual IRR : 60.4%
2nd : US$445,000
Period : 01. AUG. 2018 ~ 22. JAN. 2019 (6 Months)
Balance : US$591,323.33
Earning Rate : 32.8%
Annual IRR : 65.6%
ANGELVEST, the investor, has been operating funds through QTS twice.
The average annual IRR is 63 percent.
Below is a certificate from the attorney's office and accounting firm regarding the earning rate.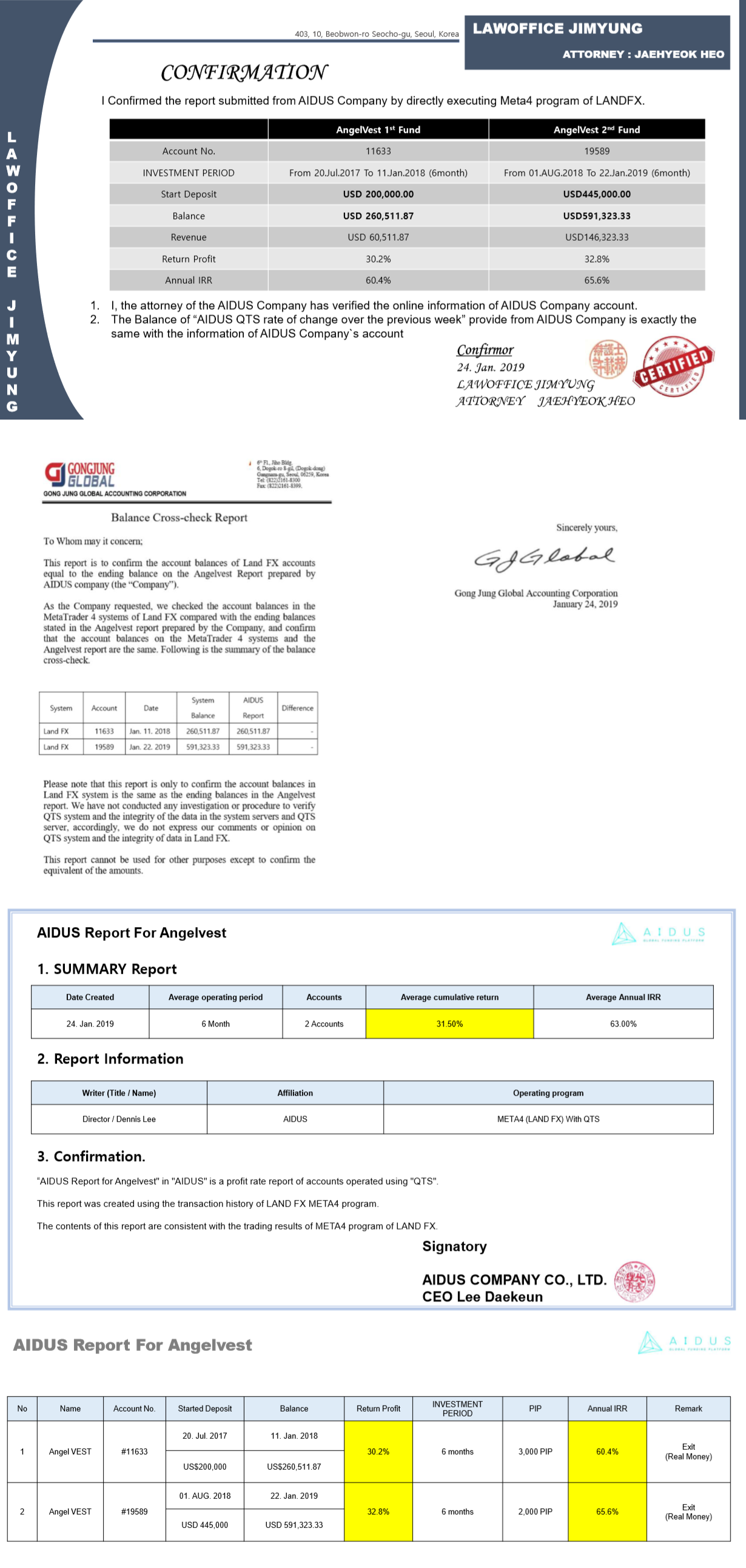 31.Jan 2019
AIDUS PROJECT Urgent Notice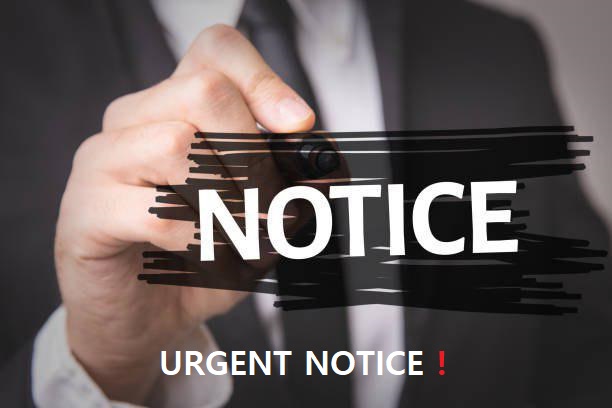 There are several reports of impersonation as AIDUS PROJECT for defraudation


Please check the notices below and pay attention for harm damage from fraud.


1. No Official Partner for AIDUS PROJECT


A. Business policies of AIDUS PROJECT and sales policies of AID TOKEN are unique rights of AISYS GLOBAL PTE., LTD and those rights are not shared with other companies. In addition, the company does not carry out the business through a joint operation with a third party.


B. Therefore, business policies of AIDUS PROJECT and sales policies of AIDUSS TOKEN(COIN) are only policies that AIDYS GLOBAL PTE., LTD has directly announced.
AIDUS PROJECT does not allow external companies to voluntarily modify the policies, does not delegate rights or does not share roles with external companies.



2. For the diversification of AIDUS PROJEC, regarding Debit Card, which is emerging these days, AISYS GLOBAL PTE., LTD is in the review phase and there is no agreement with other companies to carry out the joint business.


3. Regarding AIDUS TOKEN (COIN) sales, there is an increase in the number of fraudulent activities that induce remittance by impersonating AIDUS PROJECT officials, and we inform that AIDUS PROJECT officials, regardless of reason, will never induce remittances.



AIDUS PROEJCT manages all business policies and sales policies as AISYS GLOBAL PTE., LTD and does not assign or delegate them.




* Any AIDUS TOKEN(COIN) sales that violate AIDUS TOEKN(COIN)sales policy may be subject to strong sanctions without prior notice.


* Hereby notice that AIDUS PROJECT TEAM shall not be held liable for any damages caused by the assumed official partner of the AIDUS PROJECT.



If you are concerned about damage or have further questions, please contact us at info@aidus.io


Thank