15.Nov 2019
Official Launch of the AIDUS-MEBION Medical Check-up Service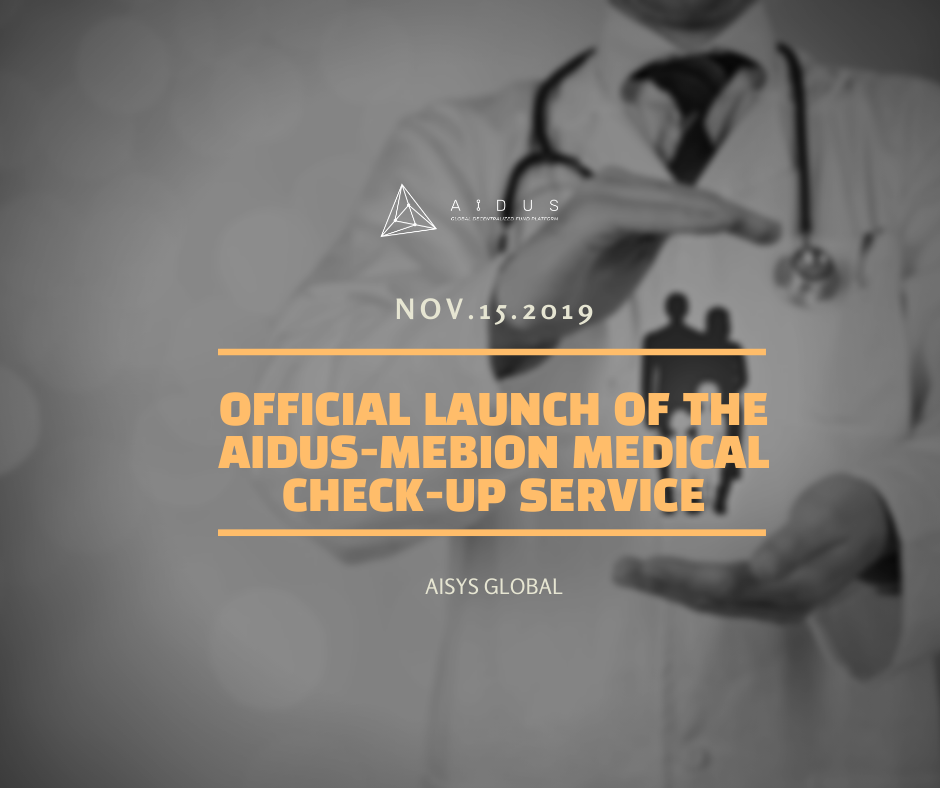 Official Launch of the AIDUS-MEBION Medical Check-up Service
On November 15, 2019, AIDUS-MEBION Medical Check-up Service is officially launched.
Target country of service: Republic of Korea (Global launch is planned in the future)
MEBION PLATFORM Address: http://mebion.kr
AIDUS-MEBION PLATFORM is a service platform to receive medical checkups at large university hospitals and premium checkup centers using AIDUS TOKEN.
30.Oct 2019
Announcement from AIDUS PROJECT TEAM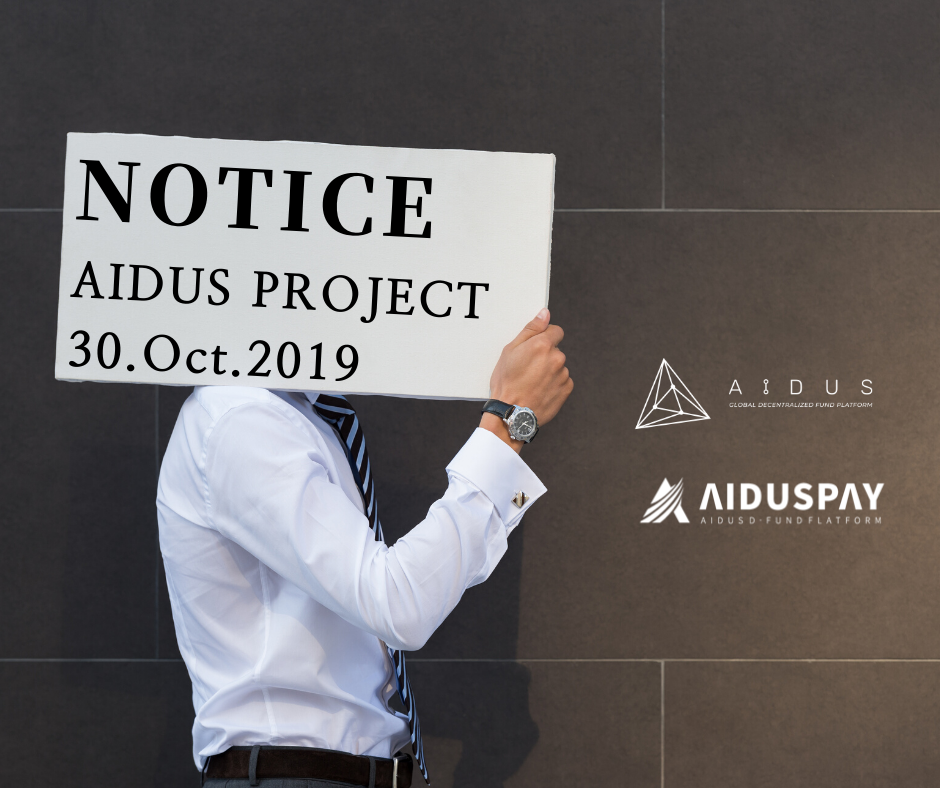 Announcement from AIDUS PROJECT TEAM
1. AIDUSPAY: We are currently operating an experience service, and we will select the most appropriate time of the official opening schedule.
2. Health Check-up Service: Currently scheduled to launch on November 15.
Complementary work is underway for the full service.
3. Listing of one of the top exchange
We are currently preparing to be listed on one of the top exchange in the world. As we are still negotiating, we are doing our best to announce and list as soon as possible.
AIDUS PROJECT TEAM is also reviewing various methods for the best synergy with all ongoing projects, and we plan to focus our capabilities on the best time.
The next announcement will be on November 11. However, if there is news that can be released even before, we will announce it as soon as possible.
Thank you.
18.Oct 2019
Notice of the incineration of AIDUS TOKEN & AIDUSPAY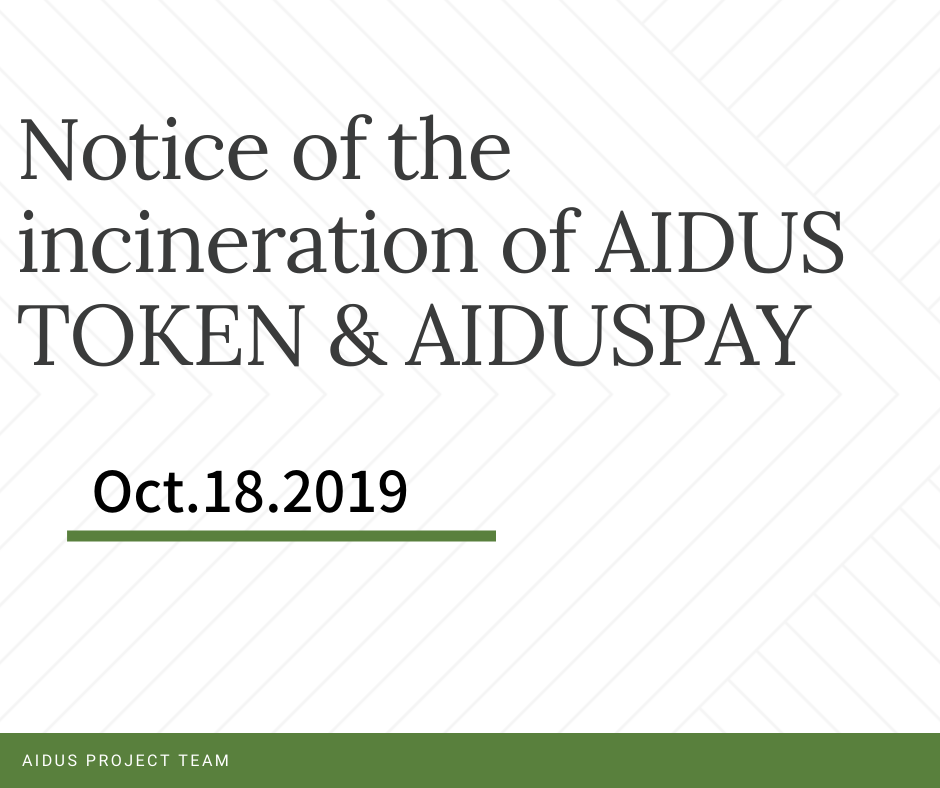 1. Notice of the incineration of AIDUS TOKEN.
Regarding to AIDUS TOKEN Incineration
In preparation for the opening of the Aiduspay and medical check-up services, we decided to incinerate through the long-term review of the issue and distribution volume and operation method.
It aims to reflect the value of the Aiduspay and health check-up service and various projects to be carried out and to stabilize the Aidus Token's value.
We would like to use it as a stepping stone for entering global business and global exchanges.
1) Initial volume: 20,000,000,000 AID (20 billion AID)
2) Incineration Quantity: 10,000,000,000 AID (10 billion AID)
3) Total amount issued after incineration: 10,000,000,000 AID (10 billion AID)
4) Distribution Volume: 200,000,000 AID (200 million AID) / No change.
5) Incineration schedule: October 24, 2019
2. Announcement of the schedule for AIDSUSPAY
1) PLATFORM Open Schedule: 2pm on 22 October 2019.
2) Open range of PLATFORM: Site usage and experience management
- Platform disclosure: URL and site disclosure.
- Sign up as a member.
- Simulated investment and interest-collecting experience
3) We will update the official service later.
We will announce future progress of AIDUSPAY and health check-up services, with or without special features. AIDUS intends to establish a trust relationship through announcements within the promised range.
The next announcement date is on October 30th.
Thank you.
17.Oct 2019
Urgent Notice : Fake Email.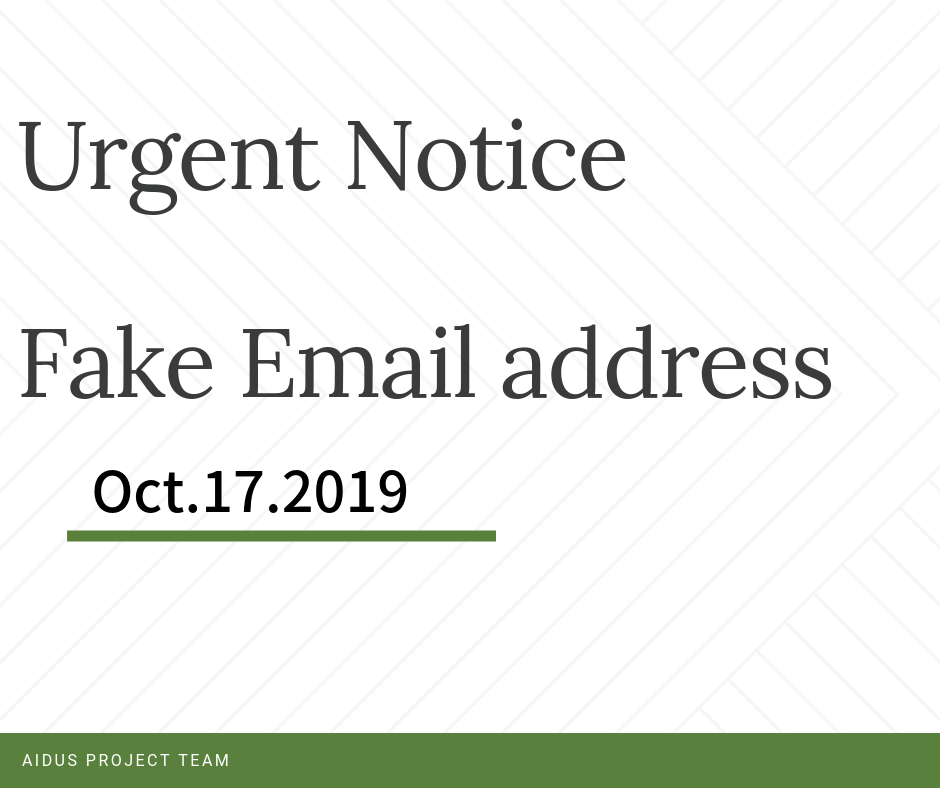 Dear users,
Recently, we found out that some of the spam e-mail impersonating AIDUS Team is distrbuted. Please pay attention to this.
AIDUS Team always uses to the following address: info@aidus.io
If it is not from: info@aidus.io, please do not run attachments and report and delete as spam.
Again, please note that if the sender's address is not info@aidus.io, it is an e-mail impersonating AIDUS Team.
11.Oct 2019
Health Care and AIDUSPAY Schedules Notice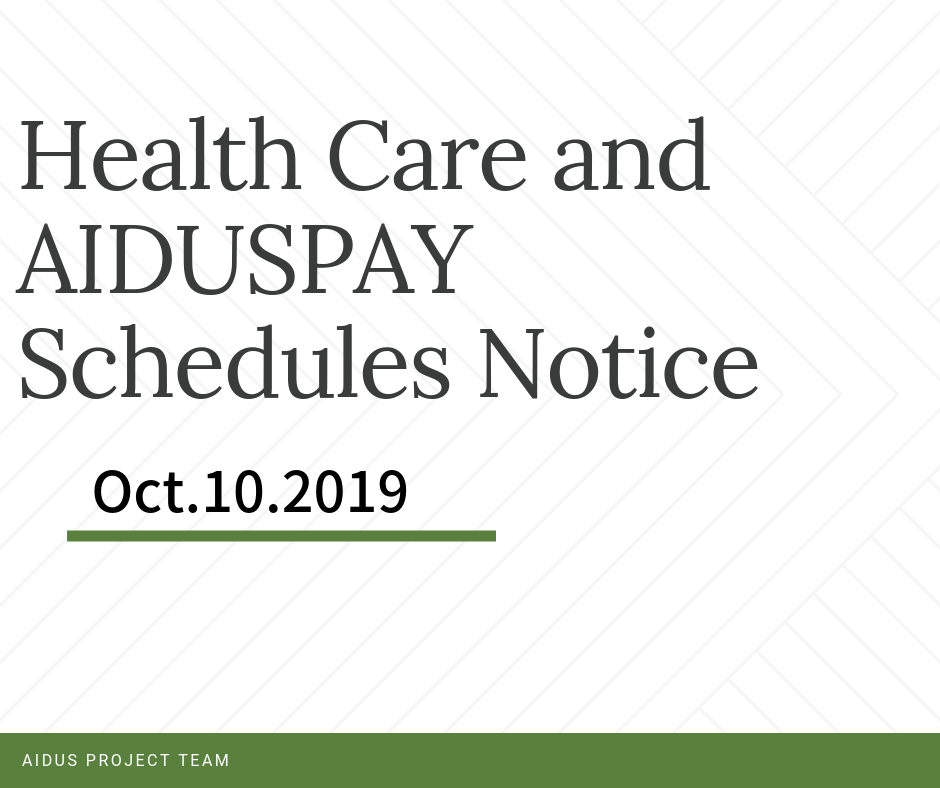 Dear users,
Below is the notice of the Health Checkup Service and the current status of Aiduspay.
1. Health Checkup Service
(1) Progress
1) Signed a contract: Aisys Global and Mebion signed a contract on October 8, 2019 that people can receive health check-up services at hospitals provided by Mebion using only AID TOKEN for health check-up services.
※ Mebion: The program provides university hospitals and premium examination centers nationwide in the platform in connection with the Biocare of 'Cha Cares', a subsidiary of the 'Cha Hospital Group'.
2) MEBION platform access URL: http://demo.h2commerce.co.kr/mebion
Site login ID: 01012345678
Login PASSWORD: 1234
You can check the usage method, hospital list, and details in the site.
(2) Future plans
1) Development Completion Goal: November 15
2) Official Opening Date: November 15th (expected)
※ The official opening schedule will be announced later.
In order to provide a higher level of service at a reasonable price, we will add a variety of product configurations and high-quality inspection items when the site is officially opened.
2. AIDUSPAY (AP)
(1) Progress
1) Development of AIDUSPAY POTAL: 3rd inspection in progress
2) Legal review: In progress
(2) Future plans
1) Date of Official Opening of Aiduspay: To be confirmed in the future (We will notify you as soon as possible)
2) Reason for delay:
Aiduspay is the first project based on the Aidus project combined with QTS. It contains the development and service thorough preparation and the matter that may be externally sensitive to the market which has not yet been tried.
In addition, due to the many considerations before operating the service, there is a delay in the development process.
We apologize for the delay. And we are trying to do our best to avoid any doubts after commercialization.
※ We will share the progress every 10 days regarding to Aiduspay.
Aidus Team is doing our best in order to keep our promise.
3) The next Aiduspay progress announcement will be on October 20, 2019.
Thank you.
01.Oct 2019
AIDUS QTS's managing performance SEASON 1 has ended.
AIDUS QTS's managing performance SEASON 1 has ended.
In the meantime, we have provided AIDUS QTS report once a week and received a notarization from PKF O`CONNOR DAVIES once a month.

The longest operating period of 46 months and the average operating period of about 37 months have achieved remarkable profits with an average annual return of 88.39% and cumulative return of 178.86%.

AIDUS will shut down SEASON 1, which has been in operation for about 37 months, and start over with SEASON 2.
Season 1 used a high profit-oriented strategy, focusing on providing high performance through QTS. In Season 2, we will manage the yield according to the actual fund management standards, and will operate more reliably than Season1.

The management return of AIDUS QTS Season 2 will be released from the beginning of November after the notarization by PKF O`CONNOR Davies in the United States.

25.Sep 2019
Notice of AIDUS Medical Services Schedule
Dear users,
Thank you to all who support AIDUS PROJECT. We will inform you about the schedule for the opening of Medical Examination Services.
1. Schedule for the release of the medical examination Service Platform: Within October 10, 2019.
2. Scope of disclosure in the platform:
1) Platform Site Address
2) List of hospitals in the platform – You can check the list of hospitals in the open platform.
3. Medical Examination Services start date: To be announced later.
Reason: Final development and testing in progress.
4. Other details will be released through press releases.
You could check the list of hospitals and the procedure for applying for examination on the platform site within 10 October. The actual schedule for real use of the service will be announced soon.
Thank you for your patience with AIDUS Project for a long time, and we will repay your support by launching a medical examination service in the near future.
Thank you.
25.Sep 2019
AIDUSPAY Open Schedule Adjustment Notice
Dear users,
AIDUS PROJECT would like to announce the AIDUSPAY new open schedule.
1. Adjustments: Postpone the AIDUSPAY Open Schedule
2. Reason for Adjustment: Coordination with external attenuation factors and follow-up services
3. Adjustment date: The opening schedule will be finalized and re-announced on October 10th.
AIDUS is currently preparing for AIDUSPAY, medical services, global exchange listings and additional service schedules that have not yet been released. Due to recent external issues, we have been rescheduling schedules for each project. We will notify you again about the confirmed schedule within October 10th.
We would like to express our apologies to those who have been waiting for the AIDUSPAY opening for a long time.
Thank you for your patience with AIDUS Project for a long time, and we will definitely return your support by launching AIDUSPAY in the near future.
This notice will be shared and e-mailed to the AIDUS website, SNS and pre-subscribers.
Thank you.
09.Sep 2019
AIDUS TOKEN Entering the Medical Service Sector
Detailed information :
http://game.mk.co.kr/view.php?year=2019&no=714449
25.Jul 2019
Event Ended in 2 hours and 13 minutes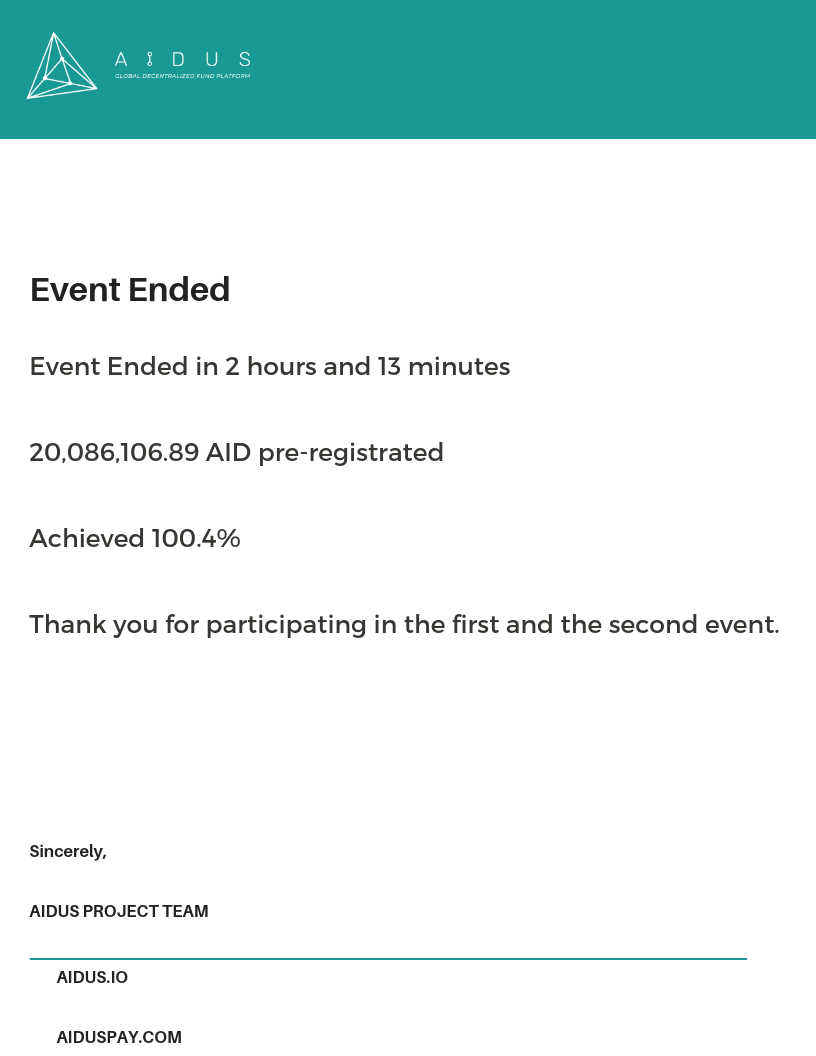 19.Jul 2019
AIDUSPAY pre-registration completed within 6 minutes and exceeded 119%.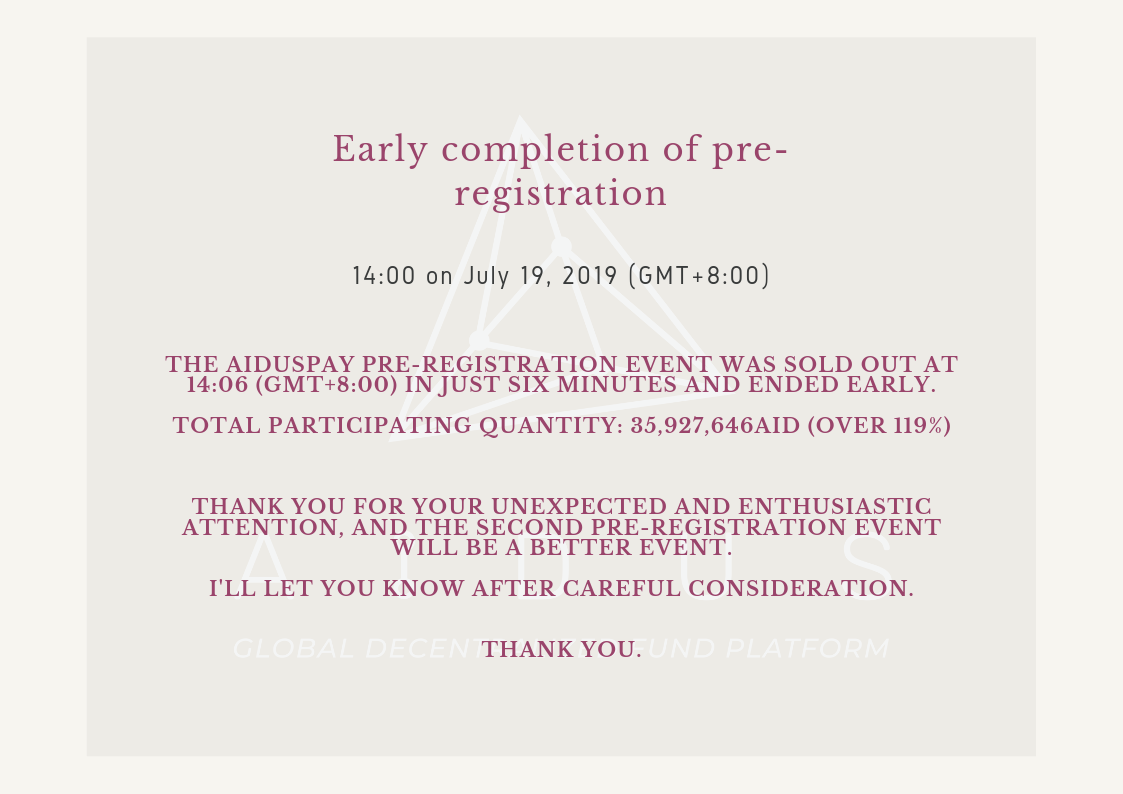 15.Jul 2019
AIDUSPAY Launch commemorative pre-registration event.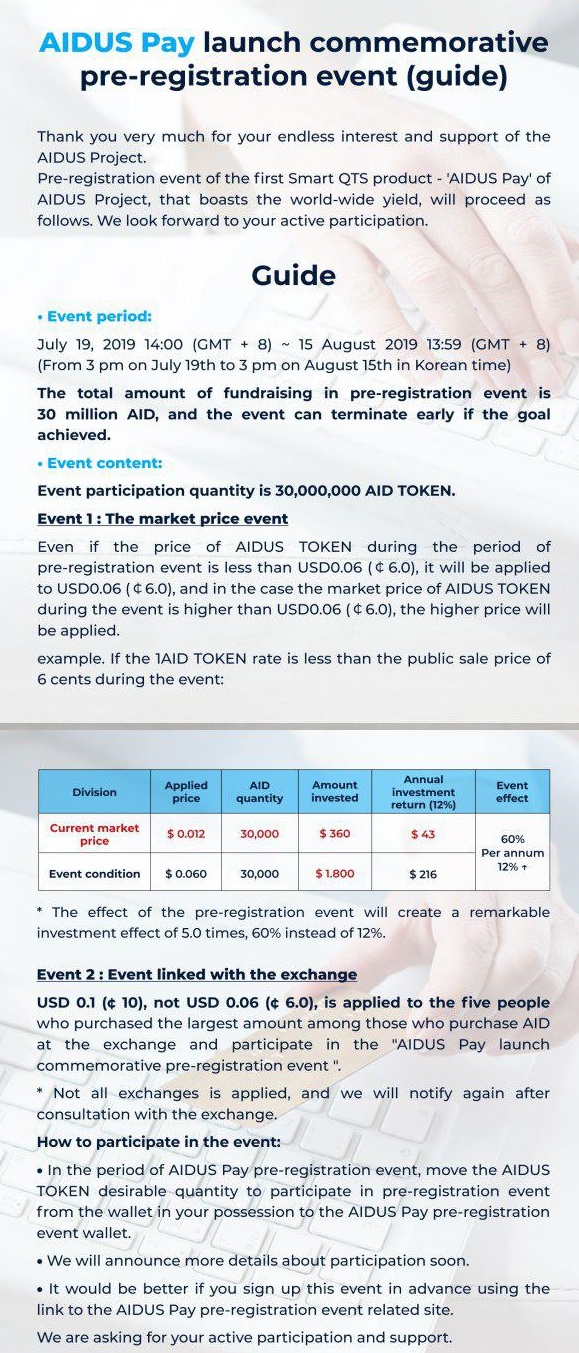 01.Jul 2019
June 27, 2019, Seoul Meetup - Introduced Aidus Pay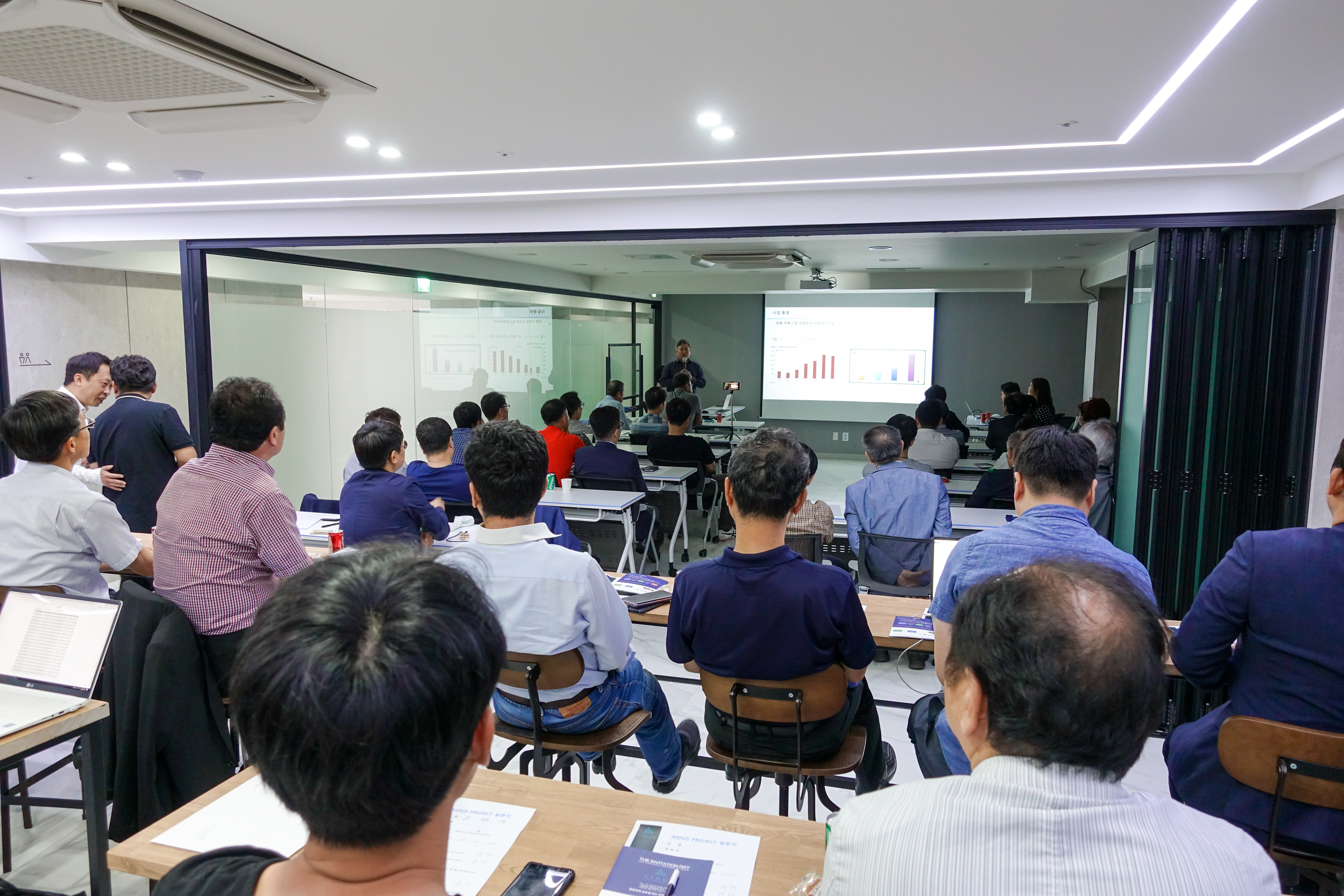 June 27, 2019, Seoul Meetup - Introduced Aidus Pay



Seoul meetup, which was held on June 27, 2019 at 7:30 pm,

Thank you very much for your participation in the late hours.




At this Seoul Seminar,

it was a valuable time to introduce our Aidus through presentation of Founder Ted Min

and Aisys Korea representative Lee Dae Keun and CEO of Aidus new business representative Mr. Seung-Chul Baek.

In this seminar, In addition to introducing the AIDUS QTS,

I was especially pleased with the announcement of AIDUS PAY, which will be released in Q3 2019.





You can find out more about AIDUS PAY on the AIDUS website at https://aidus.io/daily_pay.php.





Thank you.


Best Regards

All of the AIDUS team.
28.Jun 2019
Release of AISYS Global 'AIDUS Pay'…Presentation of a new paradigm of the financial world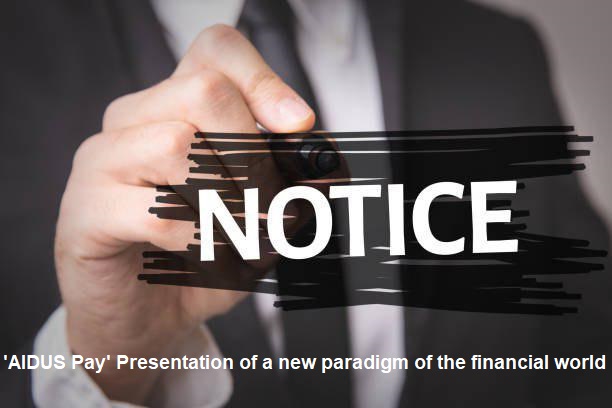 Release of AISYS Global 'AIDUS Pay'…Presentation of a new paradigm of the financial world.
Encashment of tokens – Daily payments of investment profit. - Investment token assurance, release etc.
"Possible thanks to the excellent performance of QTS"… Notice of tectonic shifts in financial market
AISYS Global (CEO David Chen), located in Singapore, has unveiled 'AIDUS Pay', which will become a new paradigm of the financial industry. The company has not only released the 'AIDUS Pay', but it also presented 3 paradigms.
The three paradigms have the following content:
▲ Presentation of AIDUS tokens (AID) as a new investment product under which it can be used as cash for the first time in the world;
▲ daily payments are made through calculation of 12% investment profit per annum.
▲ when investing with a token, AIDUS will double the escrow and guarantee the invested token.
'AIDUS Pay' means that everyone, who uses AIDUS tokens, can subscribe to fund anywhere in the world. It also pays 12% annually, which is higher than other financial institutions, while profits are calculated on a daily basis and are presented in very exceptional conditions every day.
The tokens invested by investors are double-escrowed by the company. Thereby, if any operational problem happens, the tokens that are set as escrows are paid to the holder who invested, so it is secured.
CEO David Chen emphasized:
"Considering the fact, that financial products that offer 3 ~ 4% interest annually in the financial market are gaining in popularity, 'AIDUS Pay' presents a new financial paradigm implying a daily profits payment with an annual return of 12%. The reason for the presentation of such exceptional conditions is the superior performance of QTS (Quant Trading System), which has been developed by AISYS Global and continues to generate profits for years".
The yield of AISYS Global QTS is announced every month after notarization through US accounting firm called PKF O`CONNOR DAVIES.
'AIDUS Pay' is expected to be released in the third quarter of 2019.
`AIDUS Pay` services can be subscribed using only AIDUS token (symbol: AID). Hence, this paradigm is expected to have a positive impact on the AIDUS project's ecosystem on the whole.
28.May 2019
AIDUS token will be listed on the DigiFinexn on June 3rd.
We would like to inform you, that our AIDUS token will be listed on the DigiFinexn (https://www.digifinex.com/ru-ru/) USDT market market on June 3rd.

Not long ago, it was listed on the Bitsonic exchange in Korea and, as an additional part of the Global Exchange, it has got a possibility to be listed on one of the top exchanges of CoinMarketCap's standards.

The schedule for the Korea time is as follows.

May 31 (Fri) 15:00 – The opening of the Deposit service.
June 03 (Mon) 15:00 – The opening of the Trade and Withdrawal service.

As a commemorative ceremony, we will also hold a net purchase ranking event worth 10 million KRW based on the current price.

We look forward to your interest and active participation